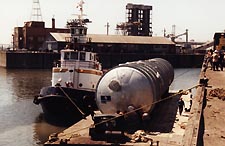 Baxter Marine Services Inc. is a privately owned and operated business in the field of Marine Surveying and Claim Services. We are members of the Canadian Board of Marine Underwriters, Transportation Club of Toronto, Average Adjusters Association, Canadian Maritime Arbitrators Association and Canadian Maritime Law Association.
Our Services are requested by Marine Underwriters, P and I Underwriters, Vessel Operators and Cargo Owners. We endeavour to provide inspections within 24 Hours of a request with a verbal preliminary report immediately after the survey. This is followed up by a faxed preliminary report within 24 hours and a final report together with photographs and copies of documents promptly after completion of our activities.
These reports are accepted by Marine Underwriters, or Protection and Indemnity Clubs, as well as proving valuable in disputed court cases.
Our business is based on over 38 years of experience in the Marine Surveying and Consultancy business. Since forming our company Baxter Marine Services in 1994, we have been very pleased to consistently work with a solid base of repeat clients as well as regularly introduce new customers to our services.